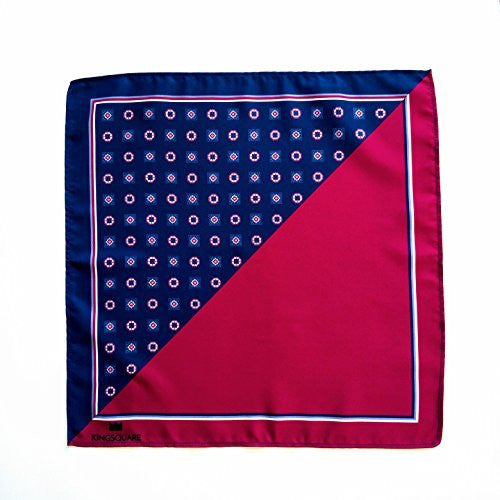 Kingsquare Men's Pocket Square, red/blue tone
Regular price $19.99 $9.99 Sale
A fun and causal pocket square features two tone red and blue design pattern. The polyester silk provides this piece a nice look – best for all your cotton, linen, sports coats and fine wood suits.
You will have lots of choices to match this piece. For example, striped shirt in light blue and white matching bow tie or navy linen jacket with matching linen pants, these all styles make you special at every occasion. These are the big size pocket squares and measures roughly "12 x 12". Style the pocket square as you love your suit game to the next level.
Features of Men's pocket square vibrant red and blue colors and pattern: This men pocket square features, big, paisley inspired motives that are different across the square, permitting you to make different look every time you wear it.
Quality material: handmade with 100% polyester silk pocket square. Perfect suit accessory: great for events, parties and special occasions. Perfect size: Most men's pocket squares are sized to obtain the biggest figure of pocket squares per yard for fabric. Unluckily, this does not outcome in pocket square with the best size, especially for the reason that every fabric has a different weave and weight. Most polyester silk squares "12 x 12" – 30 cm x 30 cm in size, which is very right size.
How pocket square look: The pocket squares appear just similar to how they do in the image with red and blue colors. They are independently wrapped in plastic, which was perfect to keep them in best shape.
Perfect pocket square size 12 x 12 inches
Red and Blue colors
Gentleman suit accessory for business, wedding, or any occasion
Material: Polyester
Digital Print Design