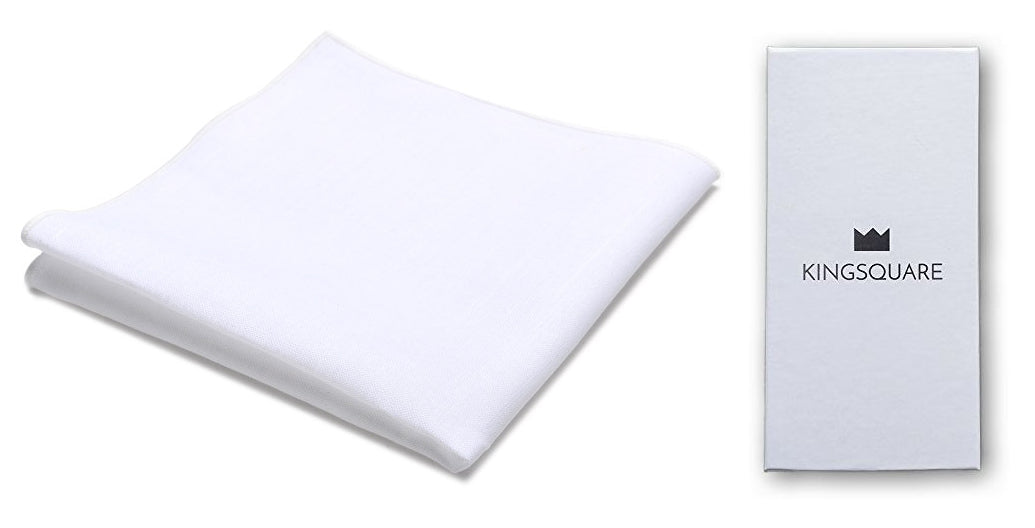 White Cotton Pocket Square Handkerchief with Gift Box
Regular price $14.99 $12.99 Sale
The KingSquare Pocket Square Handkerchief is a high-quality, premium cotton handkerchief that is the perfect choice for people that like to stay classy and stylish. This white cotton pocket square is an ideal choice for a birthday, holiday, and wedding gift. The white cotton handkerchief is designed to be the perfect size for use as a pocket square. The dimensions for this handkerchief are 11 inch x 11 inch.
The convenient design and pure cotton material of this handkerchief allows it to be used as a pocket square and a handkerchief both. The high-quality cotton ensures that the handkerchief is durable and can be easily machine washed for stains and dirt. The handkerchief also doubles as a great wedding gift, particularly because it is a fine suit accessory.
If you are confused about what you want to give your man for an upcoming special occasion then we recommend that you look towards purchasing this excellent white cotton pocket square. It is a great gift for any man in your life, be it for your father, husband, brother, or son. It is a wedding groomsmen gift that can be utilized everytime a man attends a formal event or wedding.
As a value-added service and for the customer's convenience, the manufacturer has also added an exquisite gift box with the handkerchief that perfectly compliments the accessory. Like the handkerchief, the gift box is white in color and features a beautiful design. There is also a black ribbon included that can be used to tie the handkerchief in place within the gift box. You can either send the handkerchief as it comes in the assorted gift box or you can add a layer of customized wrapping if you will. The gift box also doubles as an ideal storage box for the handkerchief - this can come in quite handy for when you need to carry around the pocket square without it getting dirty or lost.
BEAUTIFUL: Premium quality and stitching, cotton white handkerchief with a touch of style.
DURABLE: Made with 100% cotton, the handkerchief can last long years even with regular use.
PERFECT SIZE: Pocket square design with dimensions 11 inch x 11 inch.
GIFT BOX INCLUDED: A beautiful gift box with black ribbon tie is also included (the black ribbon tie can be used outside the box with wrapping paper). The gift box can be used for storage purposes. It is also the best way to store this beautiful white poc
A SUIT ACCESSORY: Best used as suit pocket square for a classic look.